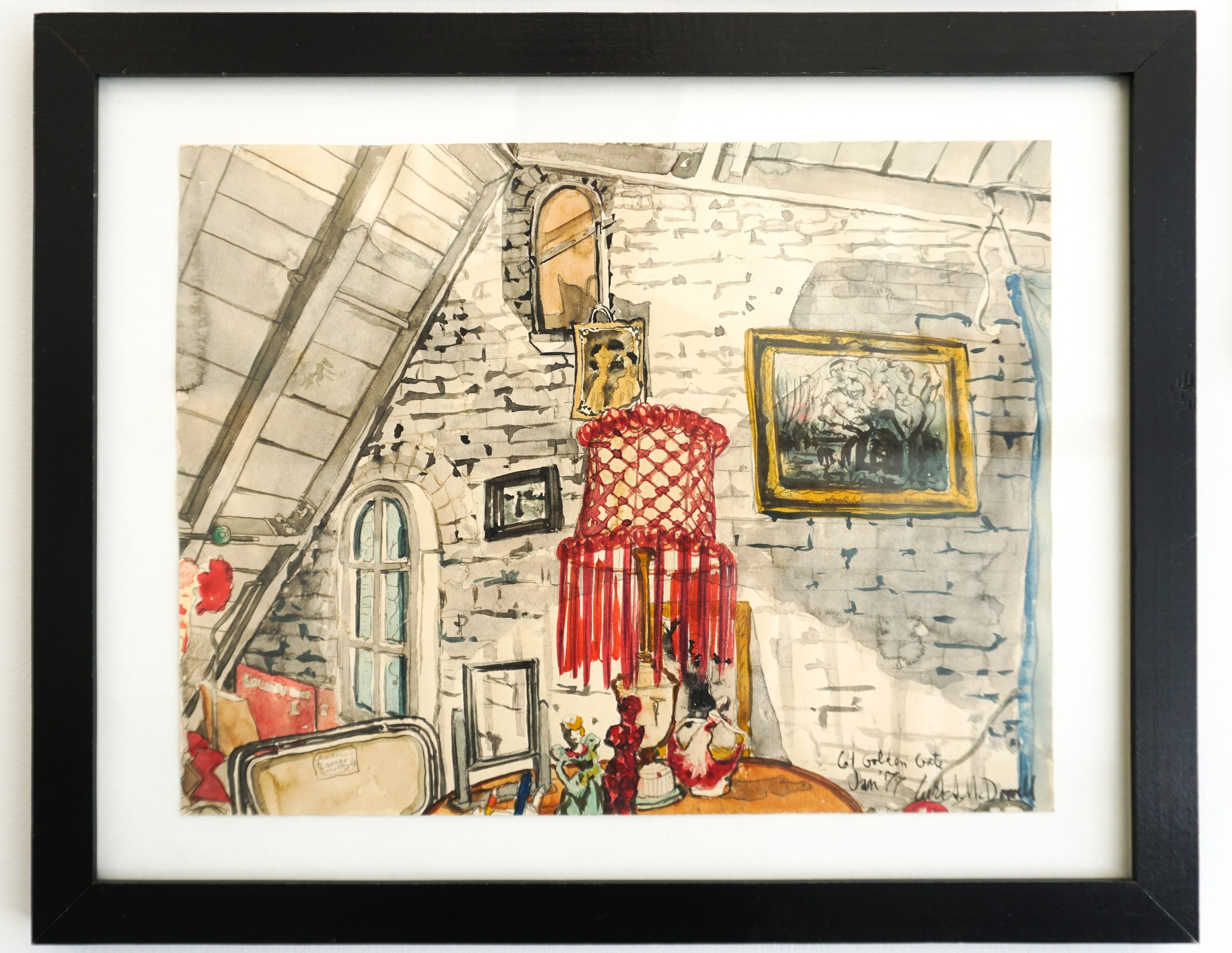 Curt McDowell
64 Golden Gate, 1977
Watercolor on paper
12 x 15 inches
Curt McDowell
Ainslie, Curt & Kathleen, 1974
Collage, mixed-media, marker on board
7 x 14 inches
Curt McDowell
Autoportrait, date unknown
Marker, ball-point pen, ink on board
7.5 x 9.75 inches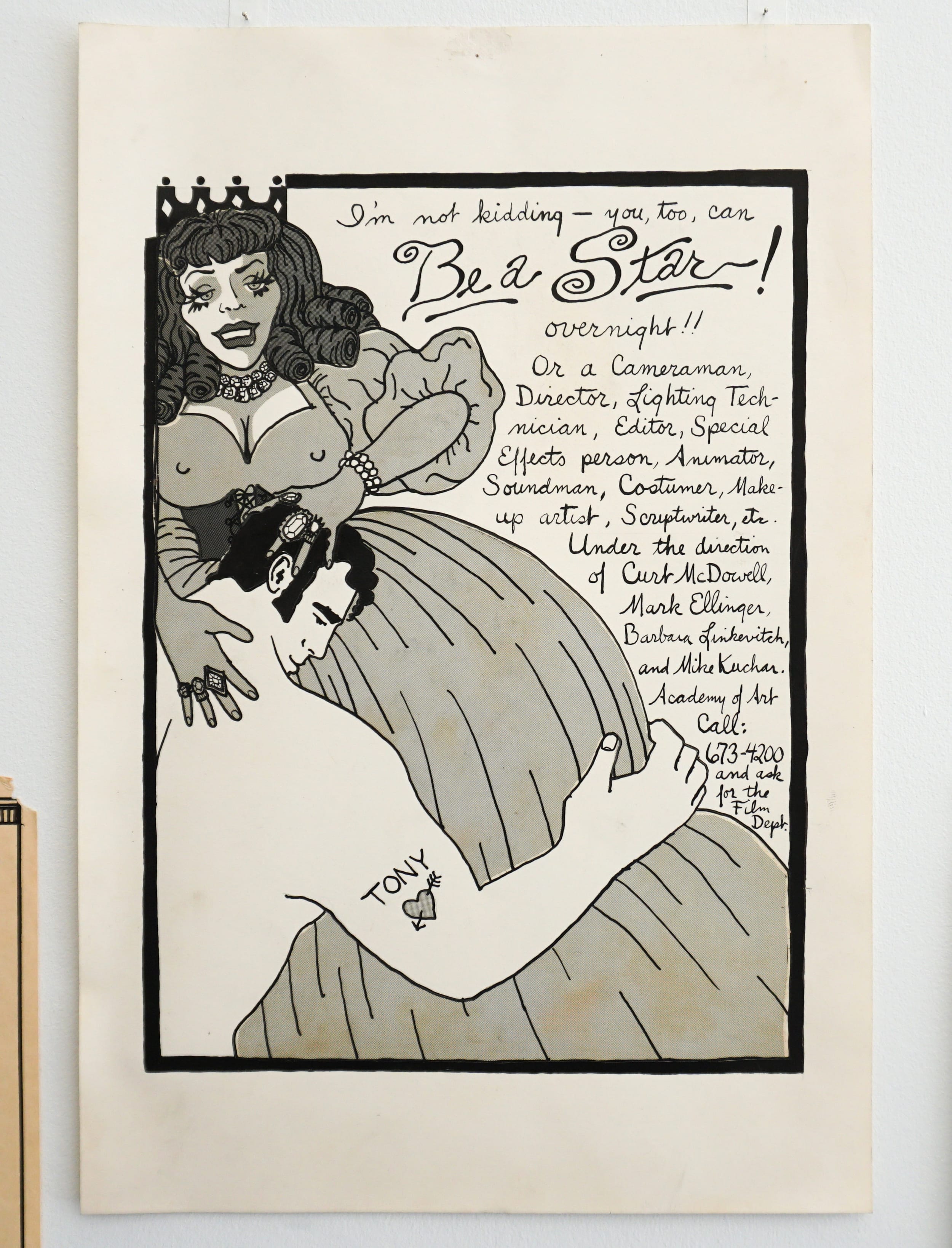 Curt McDowell
Be A Star (poster), date unknown
Zip-A-Tone and ink
15 x 10 inches
Curt McDowell
George, 1971
Collage, mixed-media
42 x 33 inches
Curt McDowell
Bob, 1967
Oil on canvas
40 x 33.5 inches
Curt McDowell
Thundercrack (set flat), 1972-73
Watercolor, marker on paper/cardboard
28 x 16 inches
Curt McDowell
Boggy Depot (set flat), 1972-73
Watercolor, maker on paper/cardboard
14 x 9.5 inches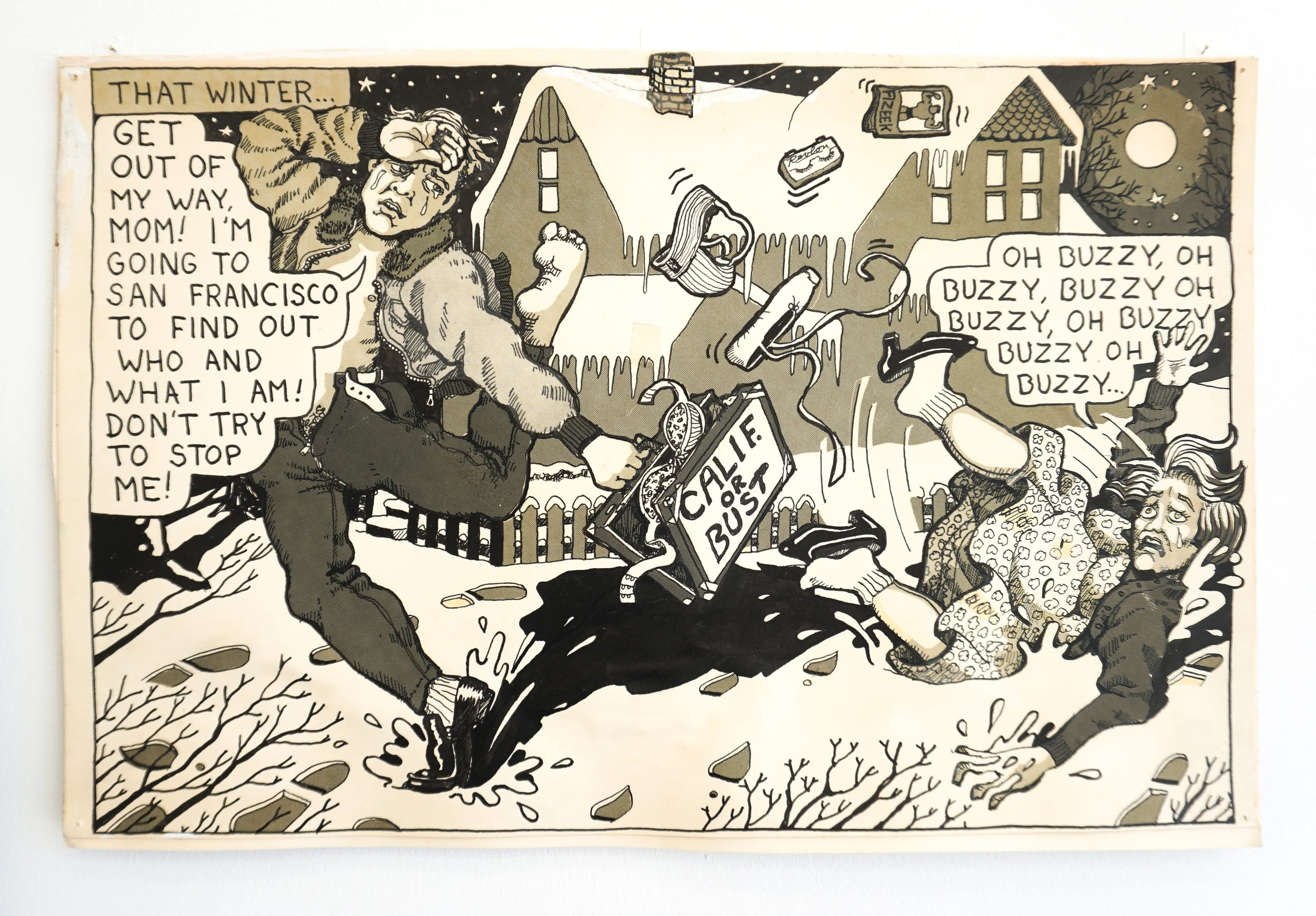 Curt McDowell
Buzzy (California or Bust) comic strip panel (detail), c. 1975
Zip-A-Tone and ink
9.5 x 14 inches
Curt McDowell
Credits and Thanks, date unknown
Pastel, oil paint on velour
13 x 20 inches
Curt McDowell
Curt & Friends, 1970
Marker on paper and cardboard
47 x 9.5 inches
Curt McDowell
Curt & Friends, 1971
Collage, mixed-media, pastel, and ink on velour on board
13 x 28 inches
Curt McDowell
Curt & Friends, date unknown
Collage, mixed-media, pastel, and ink on velour on board
12 x 28 inches
Curt McDowell
Self-Portrait in Toaster, 1981
Graphite on paper
12 x 9 inches
Curt McDowell
Self-Portrait in Sunglasses, 1976
Collage, mixed-media
10 x 13 inches
Curt McDowell
Curt, Ainslie, George, 1970
Pastel and marker on velour
12 x 5 inches
Curt McDowell
Drumm Street, 1970
Collage, mixed-media, newsprint
13 x 18 inches
Curt McDowell
For Robert - Nocturne Wallpaper, 1977
Ink, watercolor, and collage on paper
10.5 x 14 inches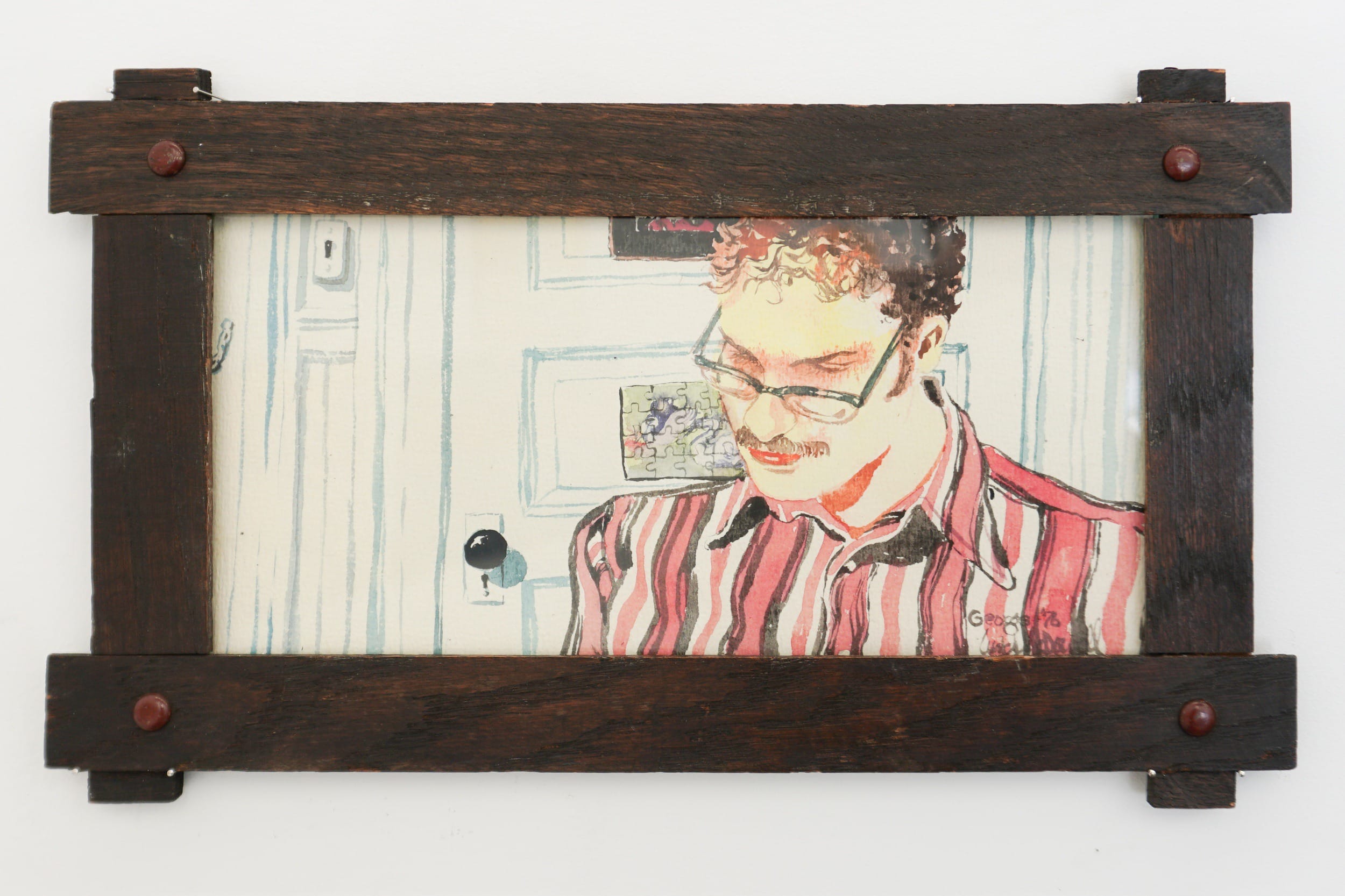 Curt McDowell
George, 1976
Watercolor on paper
8 x 12 inches
Curt McDowell
George, 1974
Mixed-media collage
12 x 10 inches
George Kuchar
Curt at the Beach, date unknown
Collage, mixed-media, pastel on paper
12 x 9 inches
George Kuchar
Untitled (Loretta), 1977
Ink and marker on paper
12.5 x 11 inches
Curt McDowell
George, date unknown
Graphite on paper
11 x 8 inches
Curt McDowell
Geyser Hot Baths (Geyserville, 16 miles of winding road), 1971-72, and again 1977, 1977
Mixed-media collage
11 x 14 inches
Curt McDowell
Halloween Night, 1974
Collage, mixed-media
9 x 18 inches
Curt McDowell
Untitled (He said she said I couldn't do it…), 1973
Marker and ink on paper
9 x 12 inches
Curt McDowell
Cast headshots (5) for film night, date unknown
Pastel and ink on velour
Various dimensions
Curt McDowell
Janey, Melinda, Curt, 1975
Collage, mixed-media
8.5 x 12 inches
Curt McDowell
Larry, Curt, Henrietta, 1971
Collage, mixed-media, newsprint
10 x 16 inches
Curt McDowell
Peed Into the Wind, 1972 (detail)
Cast headshots (25) for film poster
Collage, pastel and marker on velour and construction paper
Various dimensions
Curt McDowell
Peed Into the Wind, 1972 (detail)
Cast headshots (25) for film poster
Collage, pastel and marker on velour and construction paper
Various dimensions
Curt McDowell
Peed Into the Wind, 1972 (detail)
Cast headshots (25) for film poster
Collage, pastel and marker on velour and construction paper
Various dimensions
Curt McDowell
Peed Into the Wind, 1972 (detail)
Cast headshots (25) for film poster
Collage, pastel and marker on velour and construction paper
Various dimensions
Curt McDowell
Peed Into the Wind, 1972 (detail)
Cast headshots (25) for film poster
Collage, pastel and marker on velour and construction paper
Various dimensions
Curt McDowell
His eyes, like glass, looked up from beneath the foot of the tyrant, 1978
Watercolor and graphite on paper
11 x 15 inches
Curt McDowell
Untitled (Loretta dead at 25!), 1980
Ink on paper
8.5 x 11 inches
Curt McDowell
Untitled (Loretta in the dressing room), 1973
Pen and graphite on paper
15 x 12 inches
Curt McDowell
Untitled (Loretta, from the kitchen), date unknown
Watercolor and ink on paper
9 x 9.5 inches
Curt McDowell
Untitled (Loretta on bed), 1979
Colored graphite, marker on paper
11 x 14 inches
Curt McDowell
Untitled (Loretta noir), 1973
Graphite, maker on paper
14 x 8.5 inches
Curt McDowell
Untitled (Loretta on her knees), 1974
Ink and marker on paper
12 x 9 inches
Curt McDowell
Untitled (Loretta paperdoll), 1976
Collage, mixed-media on paper
10 x 17.5 inches
Curt McDowell
Untitled (Loretta, The Roxie), date unknown
Graphite and ink on paper
14 x 11 inches
Curt McDowell
Untitled (Loretta smoking), 1978
Graphite and ink on paper
14 x 11 inches
Curt McDowell
Untitled (Loretta at Yosemite), 1974
Ink and graphite on paper
11.5 x 9 inches
Curt McDowell
Untitled (Loretta Sucks), 1974
Ink and watercolor on paper
8 x 5.5 inches
Curt McDowell
Love, Connie, date unknown
Collage, mixed-media, pastel on paper
17 x 14 inches
Curt McDowell
Love Rita, date unknown
Collage, mixed-media, pastel on paper
17 x 14 inches
Curt McDowell
Mark, Janey, Bob, Charlene, Willi, Henry, Larry, Kathleen, Curt, 1971
Collage, mixed-media, marker on board
6 x 22 inches
Curt McDowell
Mary McCandless, Craig Donube, Carla Cooper, and Curt McDowell, 1972
Pastel and marker on velour on board
9 x 12 inches
Curt McDowell
Melinda, 1977
Ink on paper
9 x 12 inches
Curt McDowell
Now Casting Thundercrack, undated
Xerox poster
11.5 x 8.5 inches
Curt McDowell
Curt, Ann, Barbara, Mark, Jesse, Janey, 1974
Pepsi RP placard, ink, and marker on paper
16 x 24.5 inches
Curt McDowell
Pornogra Follies, date unknown
Ink on vellum over board
10.5 x 11.5 inches
Curt McDowell
George (railroad tracks), 1977
Watercolor and pen on paper
8 x 15.5 inches
Curt McDowell
The Roxie Theater, San Francisco, 1983
(Office: Robert, left, Anita right)
Photo collage
27 x 46 inches
Curt McDowell
The Roxie Theater, San Francisco, 1983
(Concessions, Robert, right)
Photo collage
18 x 29 inches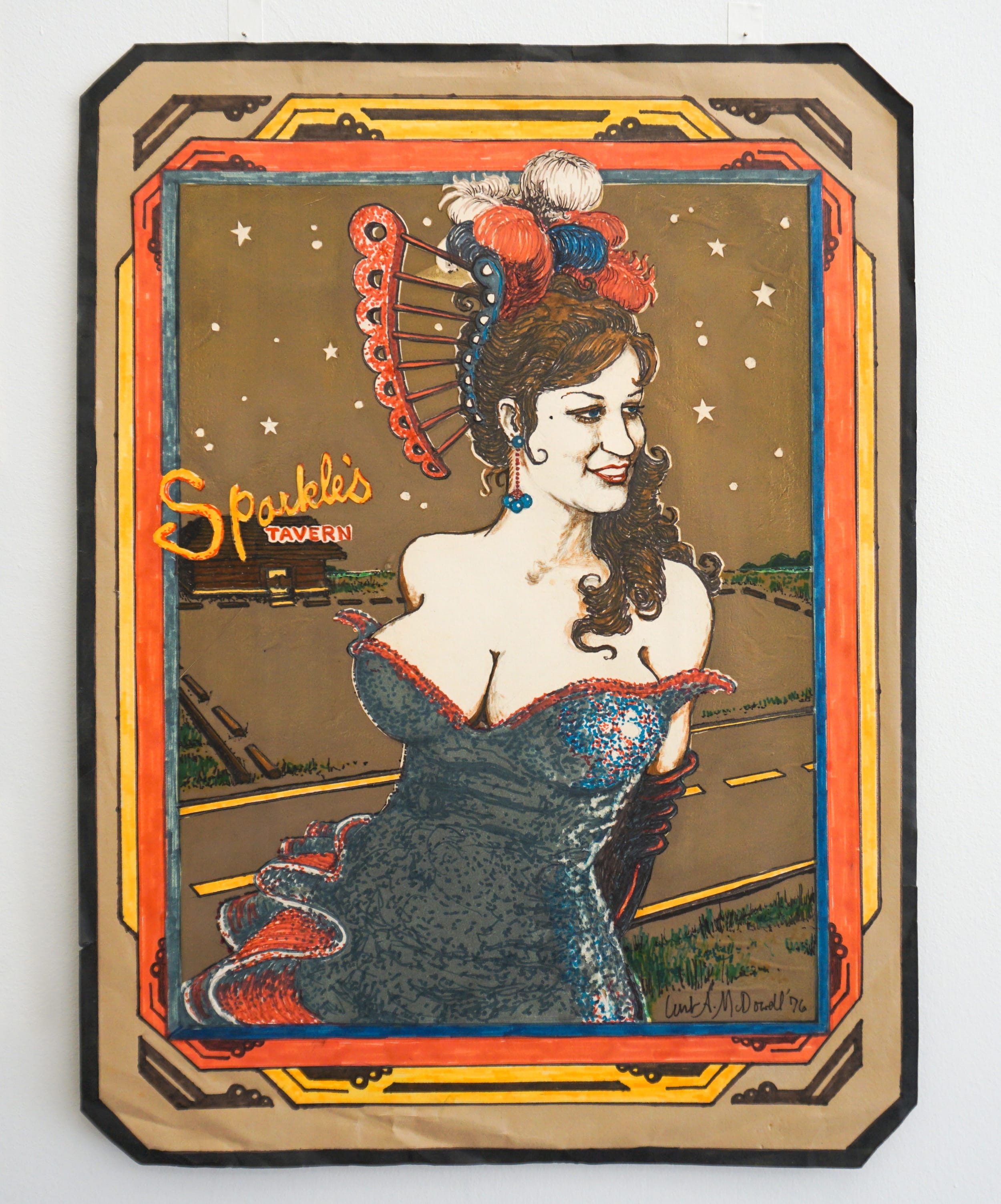 Curt McDowell
Sparkle's Tavern (film poster), 1976
Collage and mixed-media
16 x 12 inches
A. Monga
Strictly Taboo, Friday Midnites, Roxie, 1980
Xerox poster
13 x 8.5 inches
Curt McDowell
Every Friday, Thundercrack, date unknown
Xerox poster
13 x 8.5 inches
Curt McDowell
George, 1974
Graphite on paper
4 x 4 inches
Curt McDowell
George, date unknown
Ink and marker on paper
12 x 9 inches
Curt McDowell
Untitled (Loretta beneath Kewpie), date unknown
Ink and watercolor on paper
18 x 12 inches
Curt McDowell
Untitled (blue green portrait), date unknown
Pastel, oil paint on velour
10 x 9 inches
Curt McDowell
Untitled (blue seated figure), date unknown
Pastel, oil on velour
14.5 x 10 inches
Curt McDowell
Untitled (Janey with banana), date unknown
Pastel, oil on velour, tape
14 x 10.5 inches
Curt McDowell
Untitled (Mike and Horse), date unknown
Graphite on paper
10 x 7.5 inches
Curt McDowell
Untitled (Robert and Loretta), 1977
Watercolor on paper
11 x 14 inches
Curt McDowell
Untitled, date unknown
Collage, mixed-media, pastel on paper
12 x 13 inches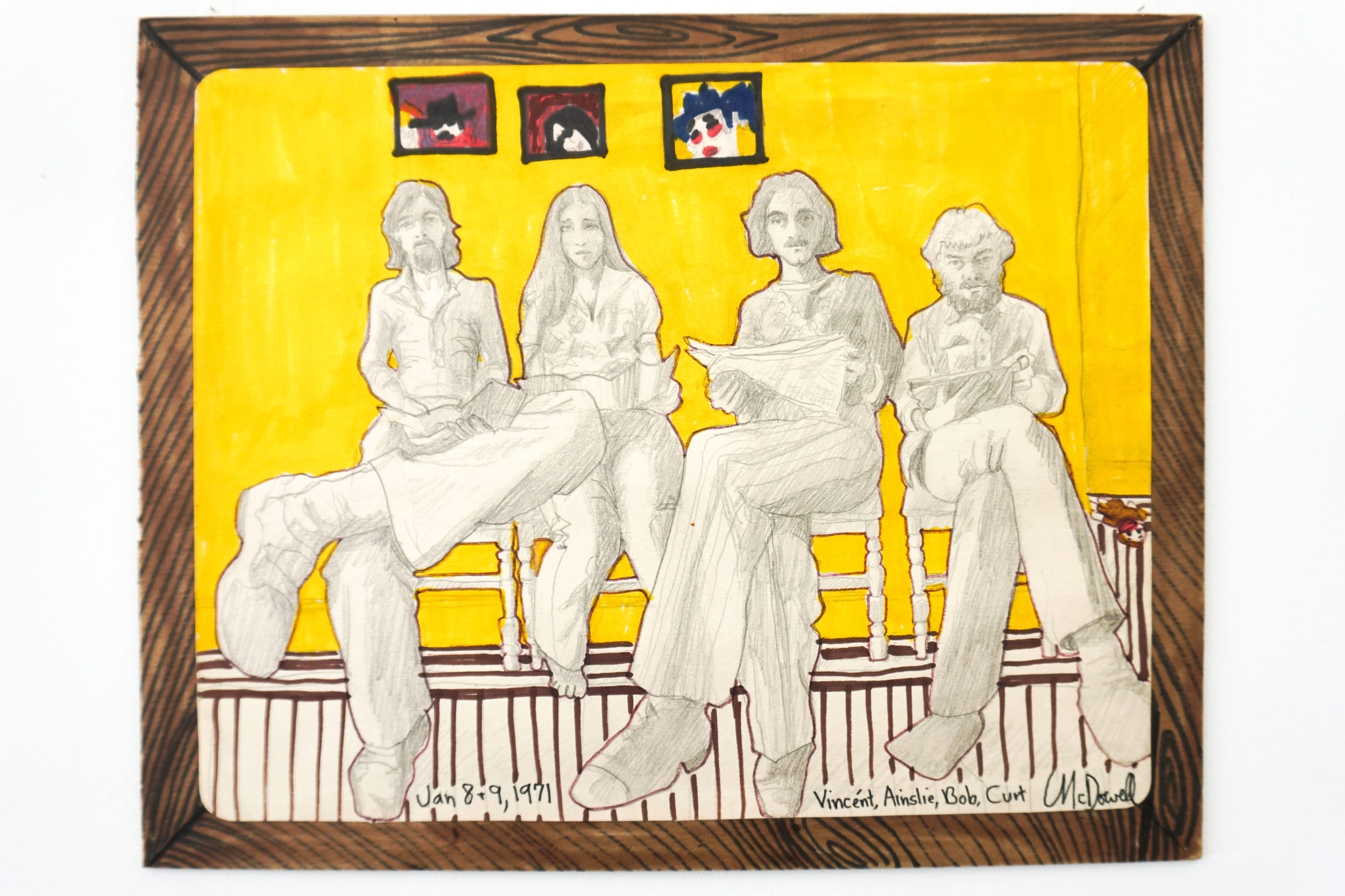 Curt McDowell
Vincént, Ainslie, Bob, Curt, 1971
Collage, mixed-media
10.5 x 13.5 inches
Curt McDowell
Vincént, 1971
Collage, mixed-media, pastel on paper
16 x 15 inches
Curt McDowell
Wieners and Buns Musical (poster), 1972
Mixed-media collage, velour
22 x 11.5 inches
Et al. etc. presents

Curt, Susan, Mike, Rick, Robert, Ann, George, Janie, Carla, Mark, Vincent, Stephen, Melinda, Scott, Marion, Ainslie, John, Ronnie, Kathleen, Deeling, Lela...
Selections from the Curt McDowell Estate

Curated by Margaret Tedesco
Jon Davies, The Fountain (limited edition chapbook)

May 12 - June 23, 2018
Opening reception: Saturday, May 12, 6:00 - 9:00 p.m.


"Get out of my way, Mom! I'm going to San Francisco to find out who and what I am! Don't try to stop me!"
— From Buzzy (California or Bust), Zip-A-Tone comic strip panel, 1975.

SELECTIONS FROM THE CURT McDOWELL ESTATE
The breadth and volume of director, writer, actor, artist Curt McDowell began in Lafayette, Indiana in high school. In the mid-60s he moved to San Francisco to study painting at the San Francisco Art Institute, but soon decided to transfer to the film department to mentor with the recently-relocated George Kuchar, who became lover, friend, and collaborator. McDowell became a cinematic staple on the scene from the early 1970s until his death due to AIDS complications in 1987. In 1976, The Roxie Theater in San Francisco was established becoming an art and independent film house. One of its four owners at the time, Robert Evans later became Curt's friend and partner.

Curt was constantly drawing, always had a notebook on hand, says the late George Kuchar & his brother Mike; in between his cinematic making (over 35 films), McDowell produced a staggering number of drawings, photo collages, watercolors, posters for films, diorama style film sets, and elaborate Zip-A-Tone comics—all storyboards of sorts—the byproduct of regularly held Tuesday night art parties with The Roxie Theater family of friends. Reflecting the candor of McDowell's sexual films, this graphic output captures the intimacy of his ever evolving and deeply rooted social circle in what would be a secondary and yet immediate practice.

Curt also left us 40 bound impeccable diaries—detailed accounts describing his works, conversations, moods, lovers, and friends—a kind of extended self-portrait, along with numerous scrapbooks documenting his times. These materials provide a telling glimpse into the lives of artists lost to us at a point of tumult or liberation during key points of queer history. The timespan witnessed queer people mobilizing from the Gay Liberation Movement to HIV/AIDS activist communities reflecting regional subsects of queer life linked to their period of artistic production. And from this private, radical urgency, an aesthetic emerged that can be located in contemporary practitioners today. And these objects must not remain hidden in the cabinets or the drawers of those who remain…
—Margaret Tedesco, curator